The need for having a car alarm is unfortunately, abundantly clear. With thieves and burglars getting increasingly bolder and more sophisticated by the day, car owners must protect their valued possessions. However, old fashioned car alarms which simply rely on sound seem not to be enough these days, neither in the way of warding off those with less than honest intentions nor in the way of putting car owners' minds at ease.
Fortunately, as technology progresses, car security systems march onward with it.
Here are 5 of today's leading car security systems:
#5: Pyle – this security system offers a complete set of features containing anything you might need or want to protect your car along with a remote start feature. However, as complete a set of features as it offers, many customers complained about radio interference and faulty remotes. If your budget is tight, this constitutes a fair alternative.
#4: Crime Stopper – a neat feature includes an animated LCD display which lets you know at all times the exact condition of your car and if any changes take place like the security system going off, a window breaking, your car moving, and the like. Its wide range of features makes this system a reasonable choice.
#3: Avital – due to its great features, such as keyless entry, remote start, starter kill, and a remote containing a large, detailed, and easy to read LCD screen, this model makes for a great alternative. The only downsides being that it has no ability to integrate with a smartphone and the remote has no silent mode, which at times can prove to be irritating.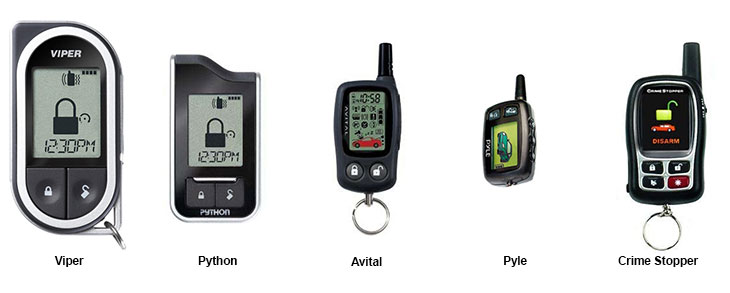 #2: Python – this is without doubt, one of the best car security systems out there. Great features such as a rechargeable remote, remote starting, and basically everything you will ever want to protect your vehicle, turn this model into an obvious choice for those concerned with their car's safety. One downside though, pertains to its lack of smartphone connectivity options.
#1: Viper – this is one of the most comprehensive and even more importantly, reliable, car security systems available today and therefore makes for an easy choice. Some of its greatest advantages include a large LCD equipped remote control which keeps you updated in regards to the exact condition of your car, remote start, starter kill, door sensors, and a large variety of